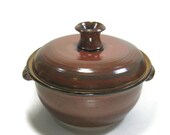 ... Chill my soul right to the marrow....
What better for a cold, wintry day than a pot of your famous chili or heartwarming stew! Serve it in style in this beautiful lidded casserole dish that holds 7 cups (about 56 ounces).
The casserole is about 6 1/2 inches tall to the top of the knob. It is 3 1/2 inches deep and almost 9 inches in diameter.
[Please note that handmade stoneware pieces such as this one should be placed in a COLD oven, not a preheated one.]
Click Here to Visit My Etsy Shop!